With the start of a new year, Oryx Universal College in partnership with Liverpool John Moores University welcomed a new cohort of its postgraduate programme, on 6th January 2021, hosting the event at the Al-Messila campus, in compliance with health and safety rules and regulations. OUC opened its doors to 30 new students in the MSc in Project Management programme, thereby adding a group of highly motivated and passionate individuals to its learning community.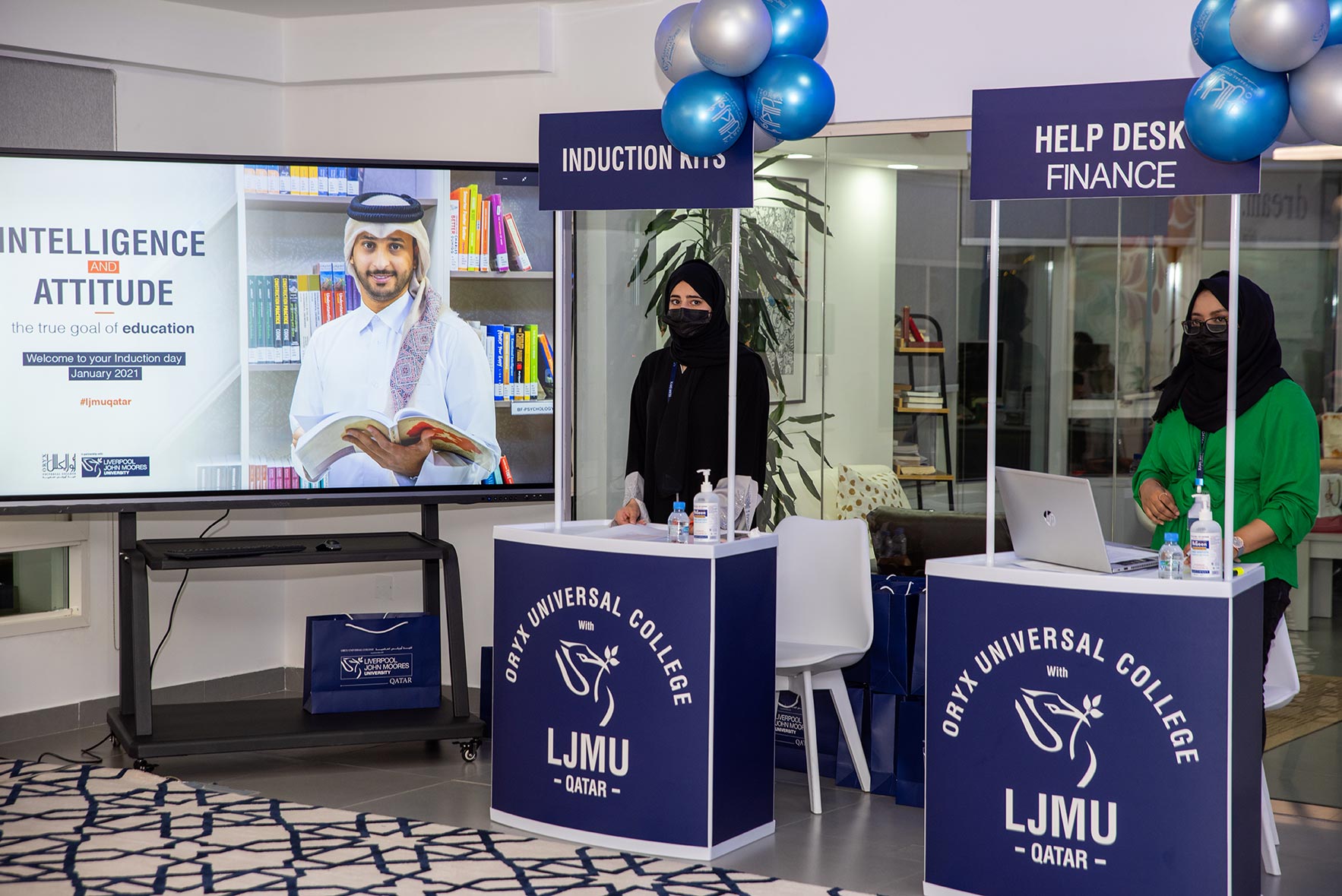 The event was hosted by one of the senior students of the first MSc in Project Management cohort, Engineer Saleh Mohammed Hussain, who shared his experience studying at the college. President of OUC, Mr Azmy Ameer inaugurated the event with his commencement speech, followed by the Dean of Academic Affairs, Dr. Tony Auchterlounie and Professor of Built Environment Education, Professor Alison Cotgrave, representing LJMU at the event. The event focused on introducing the institute, its mission and vision and how it aims to help students redefine their academic and professional career.
Mohamed Ahmed Aldhahi, one of the students from MSc in Project Management programme and renowned social media influencer with a substantial entrepreneurial experience, also joined the event and reflected on his journey with OUC.
OUC Academic Team members who addressed the new students included MSc in Project Management lecturers, Dr. Redhwan Mohammed and Engr. Mohamed El-Alaily who introduced the programme briefly. Mr. Glen Thompson, Foundation Studies Programme Coordinator inducted the students on essential areas, including Academic Misconduct Policies, British Grading System, Examination Guidelines and Techniques, amongst numerous others.
With an aim of creating a sense of cohesion within OUC's community of aspiring learners, the students were given a chance of exploring a captivating variety of college merchandise. This was followed by activities centred around 'college life' with an introduction to various clubs and societies that students could engage in post-commencement of studies. The induction day event concluded with a dinner that allowed students the chance to interact with peers and staff members and use the time as an opportunity to truly familiarise themselves with a transforming learning environment that OUC has to offer.
As an institute that believes in recreating the educational experience for everyone, OUC wishes all the best to its newest cohort of MSc in Project Management and hopes their journey ahead would prove successful and fulfilling.