A memorandum of understanding (MOU) was signed between Oryx Universal College (OUC), in partnership with Liverpool John Moores University, and the Institution of Engineers India (IEI) (Qatar Chapter) on Thursday, 2 July at the university campus in Al Messila.
The agreement has been in the making since February 2020 and addresses areas of cooperation, Continuing Professional Development (CPD), scholarly activities and collaboration in common areas of interest. The strategic partnership enables organising workshops, seminars and other professional development activities for engineering & technology communities.
The signing ceremony started with the welcome speech by the Dean of Academic Affairs of OUC, Dr Tony Auchterlounie. He welcomed the strategic partnership and invited the IEI to utilise the College facilities for IEI's events and professional development activities. He also appreciated the mutual benefits of such engagements for OUC's engineering students and IEI members.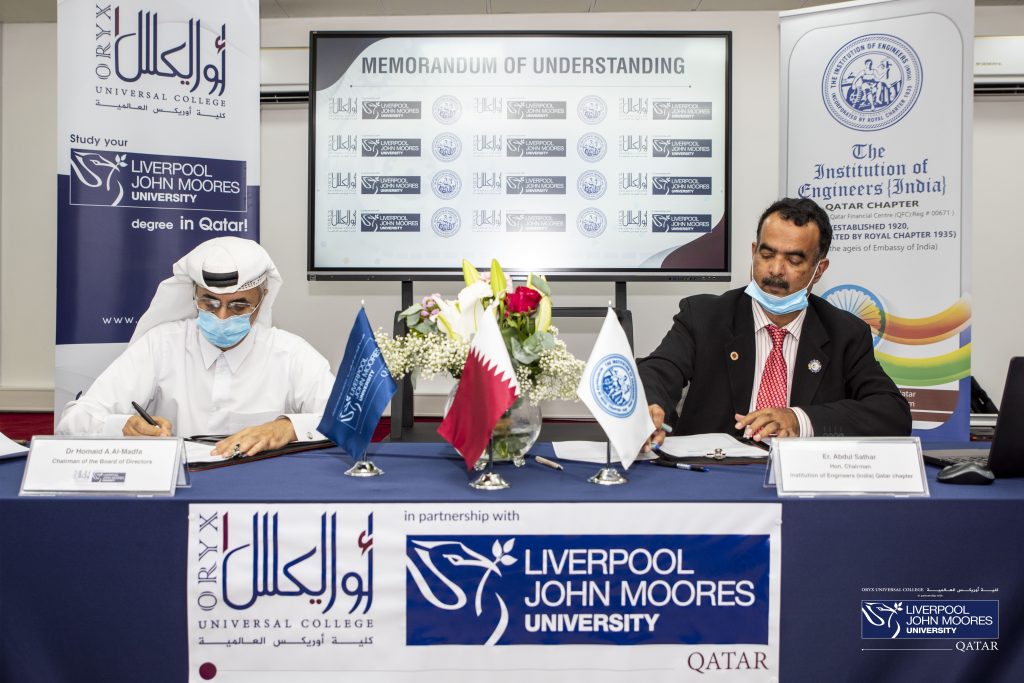 Dr Homaid Abdulla Al Madfa, Chairman of the Board of Directors of OUC signed the document on behalf of the Board of Directors of OUC and Er Abdul Sathar, Hon. Chairman of the IEI (Qatar Chapter), represented the IEI.

Mr Azmy Ameer, President and Executive Director of OUC, expressed his confidence in the success of the partnership. "We believe this strategic partnership can go a very long way and do a great deal of good to the communities that we are serving", he stated in his note. 
The event was conducted with five participants in the College auditorium, in line with Qatar's COVID-19 phase two precautionary measures. Members & office bearers of IEI and the staff of OUC joined the event through video conference facilities of the College.